COVID-19
The last 2 years have been a rollercoaster ride for sure. As individuals and businesses, we have had no choice but to become as flexible with our working lifestyles than ever before - for our own safety and for others.
Now, as we start to become accustomed to the new normal, especially when it comes to maintaining a clean working envirnoment, we want to assure you that GM Supplies is here to assist you with staying on top of your ordering list, especially when compliance is key. We're here to recommend you the best products for the right areas, whilst providing you with all safety data and dilution information you should require.
We can establish the best cleaning regimes for your offices - drop us a line today to discuss further.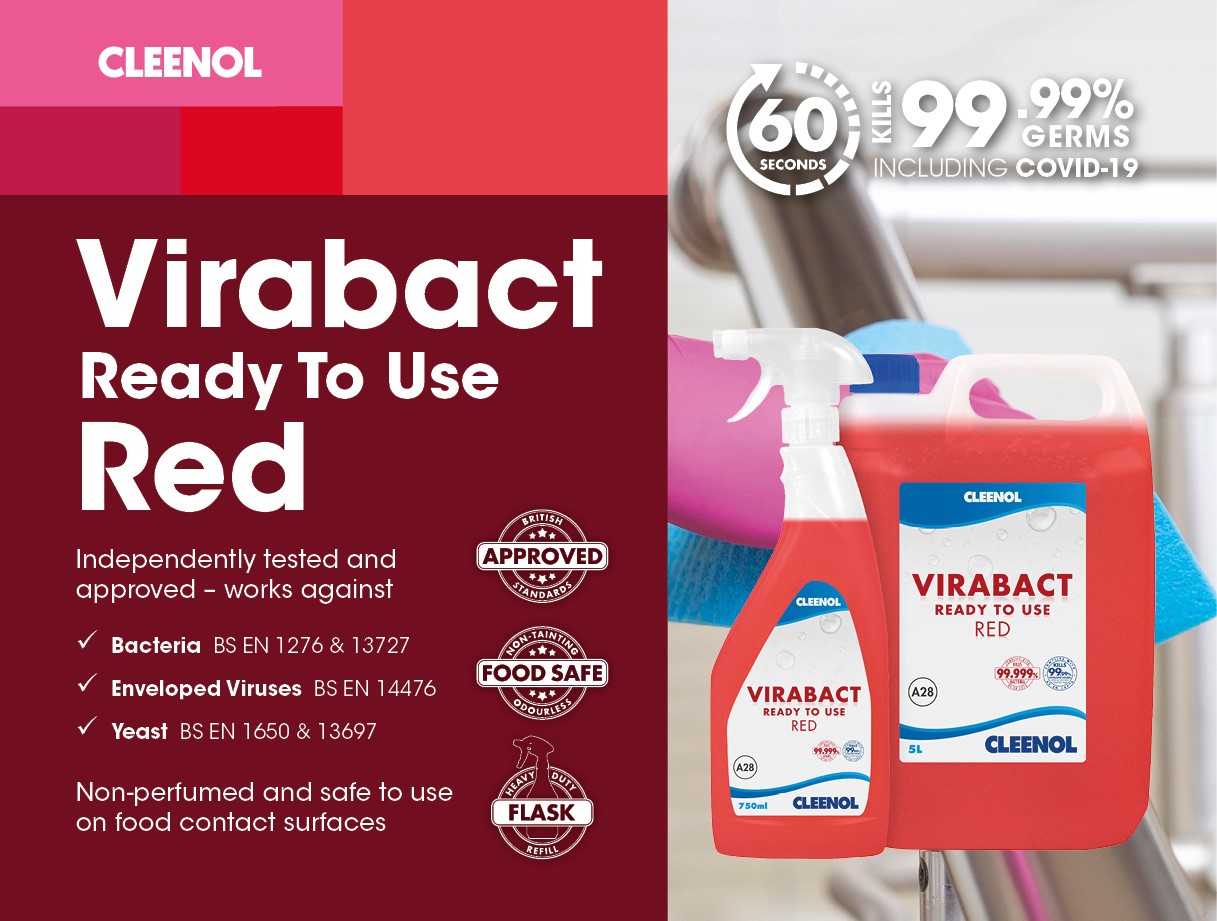 Cleenol launched their new multi surface purpose cleaner in perfect time!
Virabact RED kills SARS-CoV-2 (Covid-19) in 60 Seconds
Virabact products are liquid cleaners formulated with powerful bactericides and antiviral ingredients for use in cleaning and sanitizing.
They provide quick and easy cleaning and sanitizing for a wide variety of applications, including all food preparation surfaces. May be used to clean and disinfect all hard surfaces including worktops, salad bars, microwaves, stainless steel surfaces, canopies, fridges, freezers and chopping boards.
Contains no perfumes so is non-tainting and therefore food safe. Ideal for cleaning food preparation areas and areas involved in the processing of meats, cream and other foods that may carry a high risk of bactericidal contamination.
Conforms to BS EN 1276, BS EN 14476 (enveloped viruses), BS EN 1650 and BS EN 13697 (bacteria and yeast).
This product has not been tested on animals.
This is a stocked product at GM Supplies, meaning quick delivery for our customers. Enquire now to find out how to get yours!
Our full range of BS EN 14476 Compliant Products (for enveloped viruses)